Director Message
Office of Research Innovation & Commercialization (ORIC)
---
With advancements in science and technological innovations the emerging industries have become more sophisticated and the role of universities have become more important in state-of-the-art knowledge dissemination which leads to produce skilled graduates, technological advancements, innovation, and commercialization.
It is the need of the time to focus on innovative research in the applied direction to have beneficial impact on our society. University of Engineering & Technology (UET), Peshawar is collaborating with relevant industrial partners to materialize innovation and commercialization. UET Peshawar is trying its best to play a pivotal role in the socio-economic development of the country with its engineers working actively in different fields of research, design and development for sustainable development of Pakistan.
Faculty and students at UET Peshawar conduct dynamic research and provide indigenous solutions to problems in different fields. Centers of Excellence established to conduct applied research in the fields of earthquake engineering, urban infrastructure planning, Materials, Energy systems and auditing, green technologies, intelligent systems and networks, telecom engineering, alternate energy sources, Mining Engineering, Mechatronics Engineering, Chemical Engineering and Industrial Engineering. UET Peshawar has up to date equipment to conduct international standard research and outputs in the form of products and services for the benefit of community.
ORIC believes that research and innovation are the crucial precursors of country's development as they define its pace towards modernism in terms of technological growth. UET Peshawar with its mission statement as "Striving for Excellence in Engineering Education" provide a conducive environment to all the academicians, researchers, scientists, students and industrialists for taking the basic research to next level and to promote and encourage the technology transfer and boost-up the academia industry linkages.
Vice Chancellor's Message
Prof. Dr. Iftikhar Hussain - Vice Chancellor
---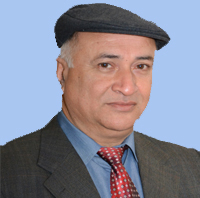 By virtue of its decades-long legacy of being a distinguished public sector engineering university at the National and International level, I feel proud to lead an institution, which is my alma mater. The admissions process for the new academic session (2020-21) has just started after undergoing a complete revamping from a manual to an online operation. It may pose challenges for aspiring candidates who would need to be vigilant and well versed in online submission processes. Rest assured, we are taking all the necessary steps needed to assist you and to ensure that the process goes through seamlessly.
I fervently believe that this is the time to streamline academic as well as administrative issues/protocols at UET Peshawar and to improve its ranking through research and scholarship. In this context, I have already set my direction with a capable team of Deans and Heads of Departments to put things on the right course so as to make up for the lost time due to Covid-19 break.
I profoundly hope that our endeavours in the coming years will be graced by inspiration, dedication and shared principles from all sections of the University.
Thank you and God bless you all!.