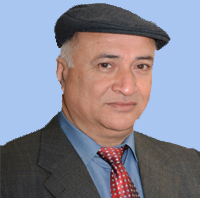 Vice Chancellor's Message
By virtue of its decades-long legacy of being a distinguished public sector engineering university at the National and International level, I feel proud to lead an institution, which is my alma mater. The admissions process for the new academic session (2020-21) has just started after undergoing a complete revamping from a manual to an online operation. It may pose challenges for aspiring candidates who would need to be vigilant and well versed in online submission processes. Rest assured, we are taking all the necessary steps needed to assist you and to ensure that the process goes through seamlessly.

I fervently believe that this is the time to streamline academic as well as administrative issues/protocols at UET Peshawar and to improve its ranking through research and scholarship. In this context, I have already set my direction with a capable team of Deans and Heads of Departments to put things on the right course so as to make up for the lost time due to Covid-19 break.

I profoundly hope that our endeavours in the coming years will be graced by inspiration, dedication and shared principles from all sections of the University.

Thank you and God bless you all!.

Prof. Dr. Iftikhar Hussain - Vice Chancellor